THE EVENING - a night of Swing
The Vienna Big Band Project featuring Carole Alston (AT/USA)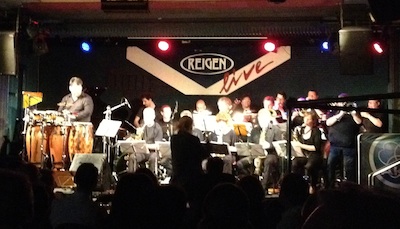 This is going to be a special evening:

The Vienna Big Band Project is a full big band with 18 musicians that will play the finest Swing tunes of the Big Band Era for you.

Their sound brings you back to the days of Count Basie, Artie Shaw and Benny Goodman.

We also welcome the lovely Carole Alston as singer of the big band! Her soft yet powerful voice is pure pleasure.

You can enjoy by just sitting or watching, BUT you can also grab the opportunity and dance!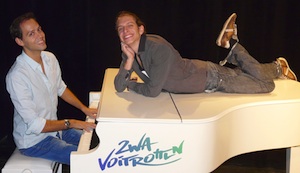 Before the live music and the dancing, we have a short pre-show with the latest winners of the "Große ORF Comedy Chance 2012", the entertaining and musically very talented
Zwa Voitrottln
!
In addition, there will be a
Vintage booth
offering hats, original music/vinyl/shellack disks, and shoe bags specially designed for this charity event!
The Vintage-Shop is presented by
Karin Bergmayer Hutobjekte
.
Plus there will be a
small art exhibit
with paintings by Claudia Gabriel.
There will be a full dance floor open to everybody.
Free seating! There are seats available in 2 floors - you can sit wherever theres a spot!
DJs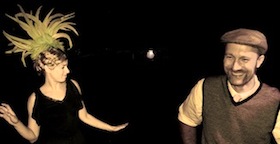 During the breaks and after the live set, DJs Ka Star and Dean Maritim (AT) will move your feet and your souls.

Both dancers, they have a fine ear for classical swing tunes, but are also curious and open to all that swings.
Schedule
THE CHARITY
There are times for dancing, love and life.
But there are also times for pain, despair and death.

When an important person in your life falls terminally ill, your world is falling to pieces. In our modern times, we are not prepared to face illness and death.
In these situations, every support is more than welcome - especially if the support is qualified and well-trained.

Mobile Palliative Care Teams (service by Caritas Austria) are providing fully qualified support for patients and their family:
With their help, patients can spend the rest of their lives at home, with their families
Patients receive medical and psychological support
Care-taking family members receive psychological and mental support
When the time has come, they help you accepting and understanding death
However not all teams have the same portfolio and range of support. This - alas - is often a question of money - and awareness.

The Mobile Palliative Care Team Korneuburg (Lower Austria) is one of the few providing 24 h/7 day support.
If you ever get in this situation, you quickly learn to understand how crucial this all-time availability is.

This charity event intends to
raise the awareness for the Mobile Palliative Teams in general, and the Team Korneuburg in particular
inform about the possibilities
stress the importance of 24/7-availability and maximum range of homogeneous services
SPONSORSHIP and SUPPORT
Please help us raise as much money as possible for this team!

You can
sponsor this event by donating a sum of your choice; you will be featured on the website as sponsor, in a leaflet set for the evening and mentioned in press releases.
donate money for the Mobile Palliative Care Team only.


For more information about sponsorship:
Sandra Hartbach





---


This evening is supported by:




---



For more information the Mobile Palliative Care Team and donations:
Mobile Palliative Care Team Korneuburg